A costly process made simple and sustainable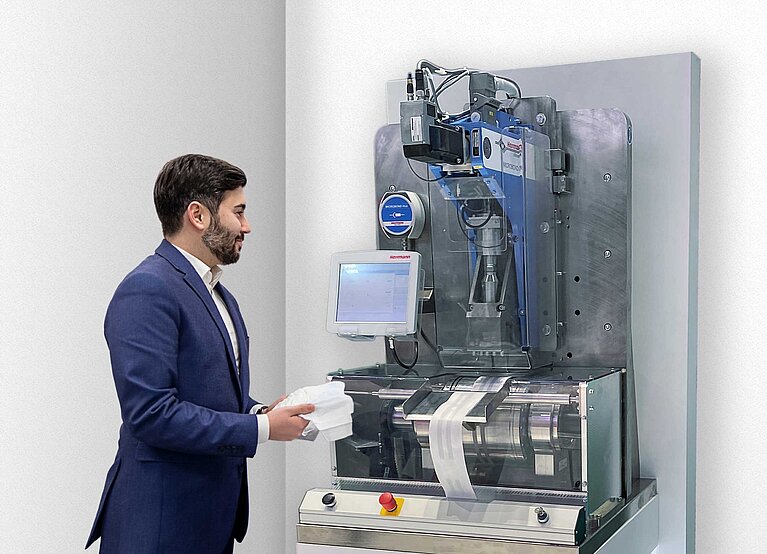 New innovation forms touch fasteners using ultrasonics
Thanks to a completely new process, touch fasteners can be produced much more sustainably and cost-effectively. By combining expertise, Soni-Form and Herrmann Ultraschall succeeded in generating a process for forming the hook elements of a hook and loop type fastener directly onto nonwovens using ultrasonics. This significantly reduces the investment and operational costs for hygiene manufacturers and improves the eco-balance of their products.
As an additional step towards adhesive-free diapers, the new ultrasonic process is another milestone that makes one of the most resource-intensive manufacturing steps in diaper production more sustainable and efficient. The principle is simple: Using a special contoured sonotrode in combination with a unique anvil roller with hook shaped cavities, a small amount of material is taken from the nonwovens and formed into hooks using the ultrasonic vibrations. This creates the touch fasteners directly as part of the nonwoven material.
The simplification of this important process means enormous cost savings. Until now, the forming of hooks required separate extruder lines, which needed a lot of space, energy and additives. The ultrasonic technology requires no additional joining agents and significantly less energy than comparable processes.
"Due to the high material costs, it was previously necessary to minimize the size of touch fasteners. This led to problems, especially with products such as incontinence diapers, where the touch fastening area tends to be significantly greater than in infant diapers," explains Jerry Rocha, president of Soni-Form. "With the new process, touch fasteners can be enlarged to any size in the future at almost no extra cost. This opens up completely new opportunities in product designs and provides greater flexibility for manufacturers."
In addition to the cost savings, this innovation also increases the quality of the end product. Since the hooks are only formed from the nonwovens, its soft material properties are retained, so the diaper is more comfortable to wear. But despite their supple design, the hooks maintain high shear and peel strength. In addition, the absence of adhesives and other chemicals also improves the product's ecological footprint and provides companies with an important sales offering to the end consumer.
The shape and technical properties of the hooks can be individually engineered for an optimized application. It is also possible to emboss additional patterns, such as the company's logo, onto the nonwoven using ultrasonics in the same process.