Continuous ultrasonics
MICROBOND RS systems
The MICROBOND RS system of rotary ultrasonic welders consists of an actuator with the modular ULTRASPIN rotary module. Depending on application requirements, different operating frequencies and variable sonotrode widths can be selected. Different high-performance generators designed for continuous ultrasonic operation can be selected. The patented Microgap control also allows for precise gap stabilization for this module concept. The MICROBOND weld process controller is used for visualization and control of the continuous weld process and completes the configuration of the overall system.
30 and 35 kHz operating frequency
600 – 1200 W generator power
60 – 1500 N weld force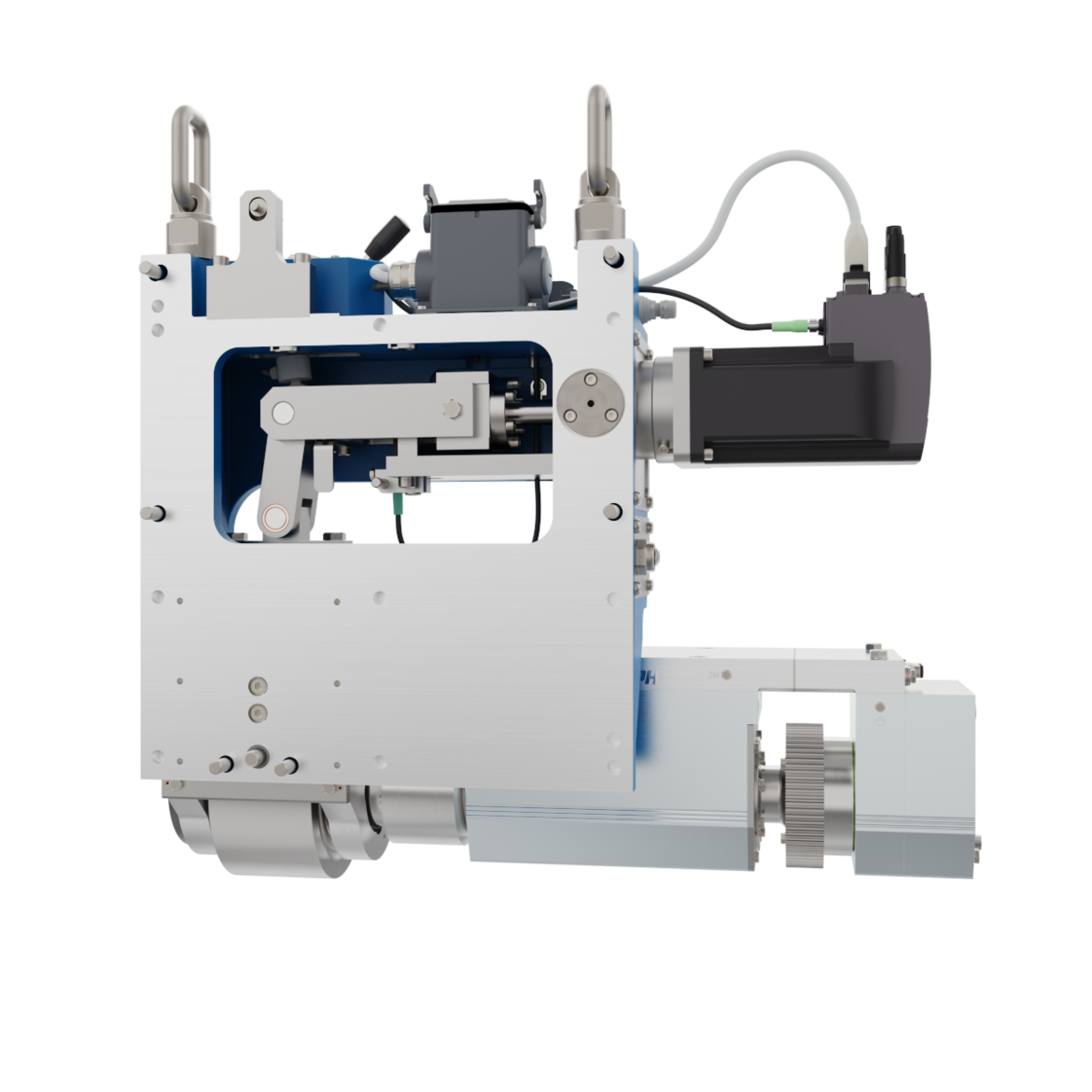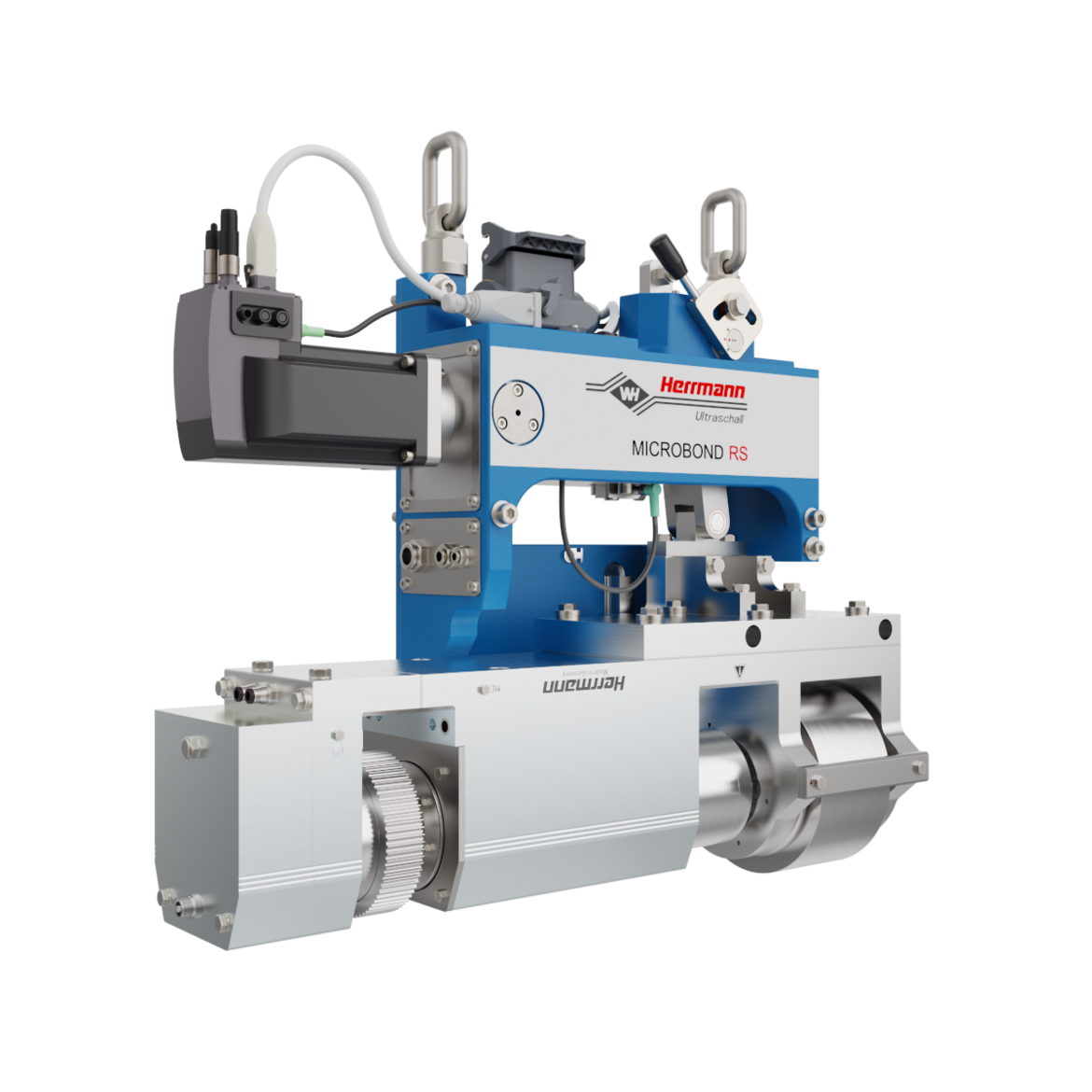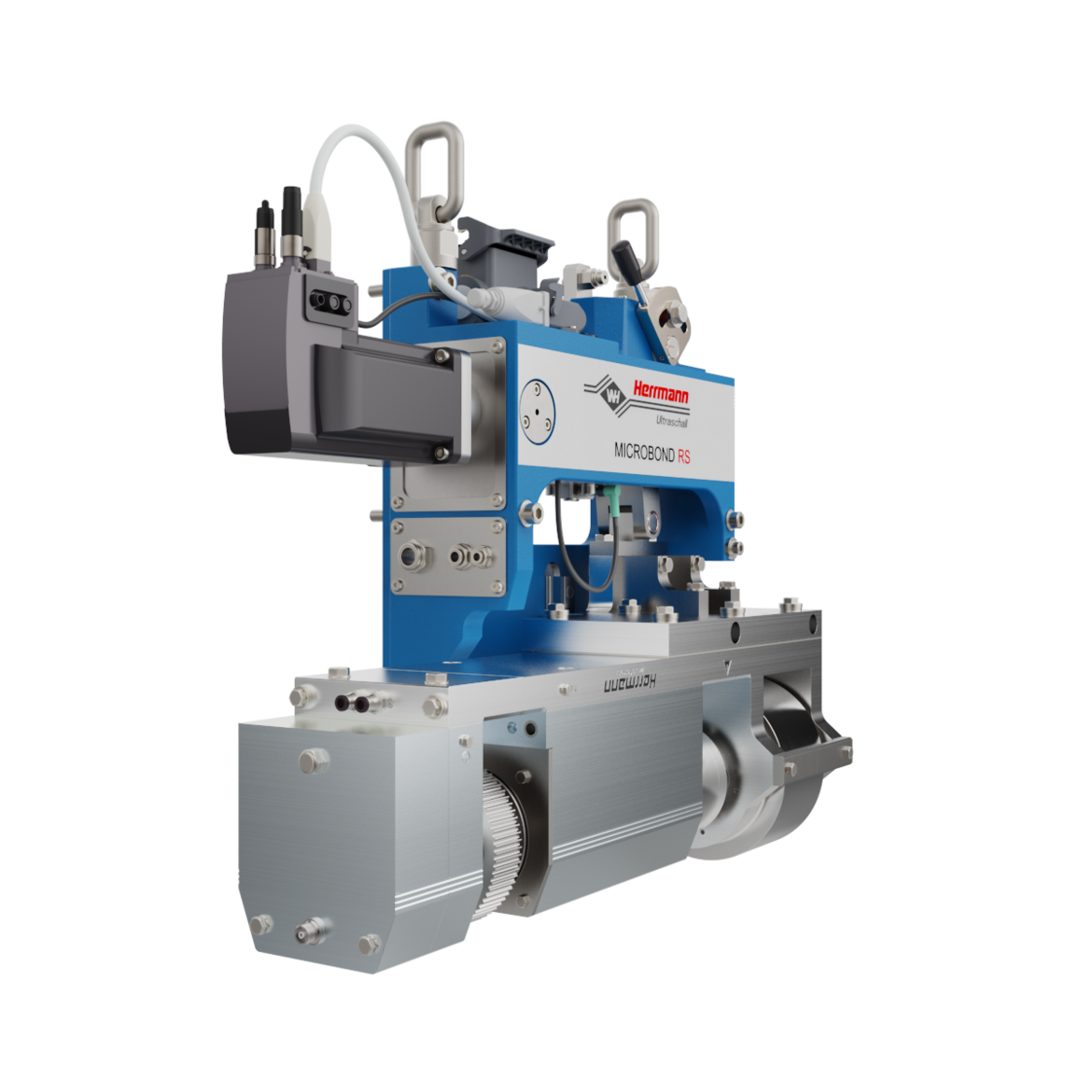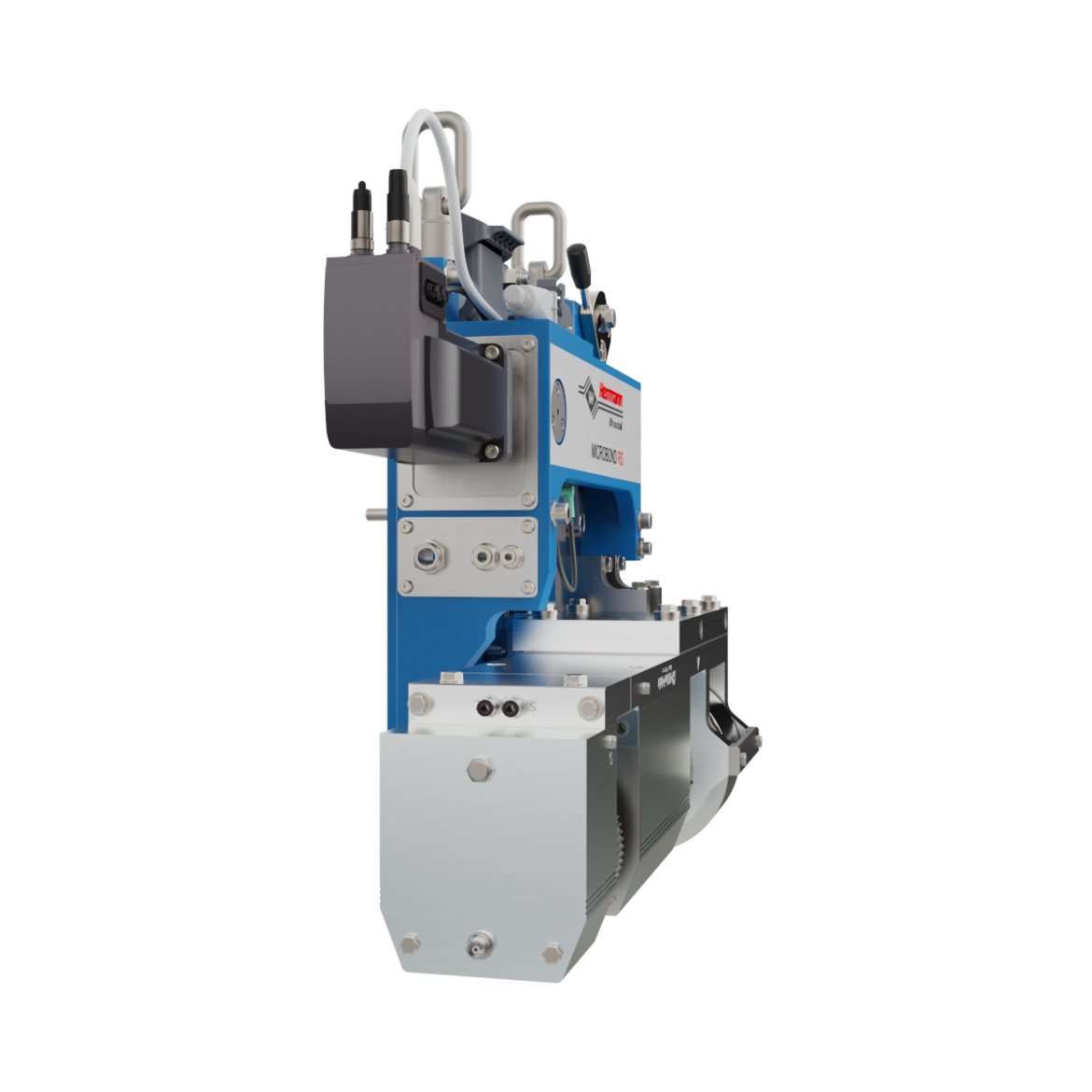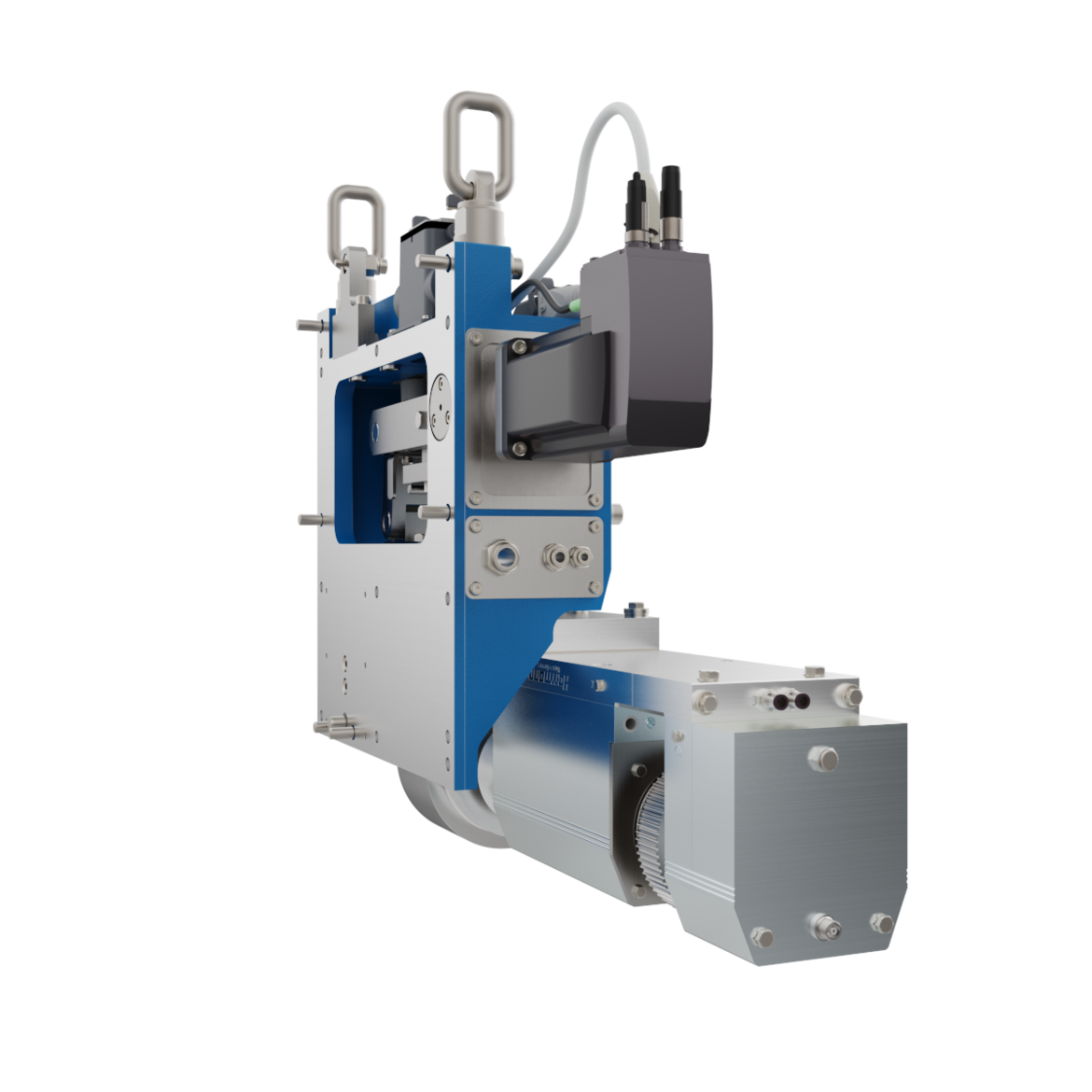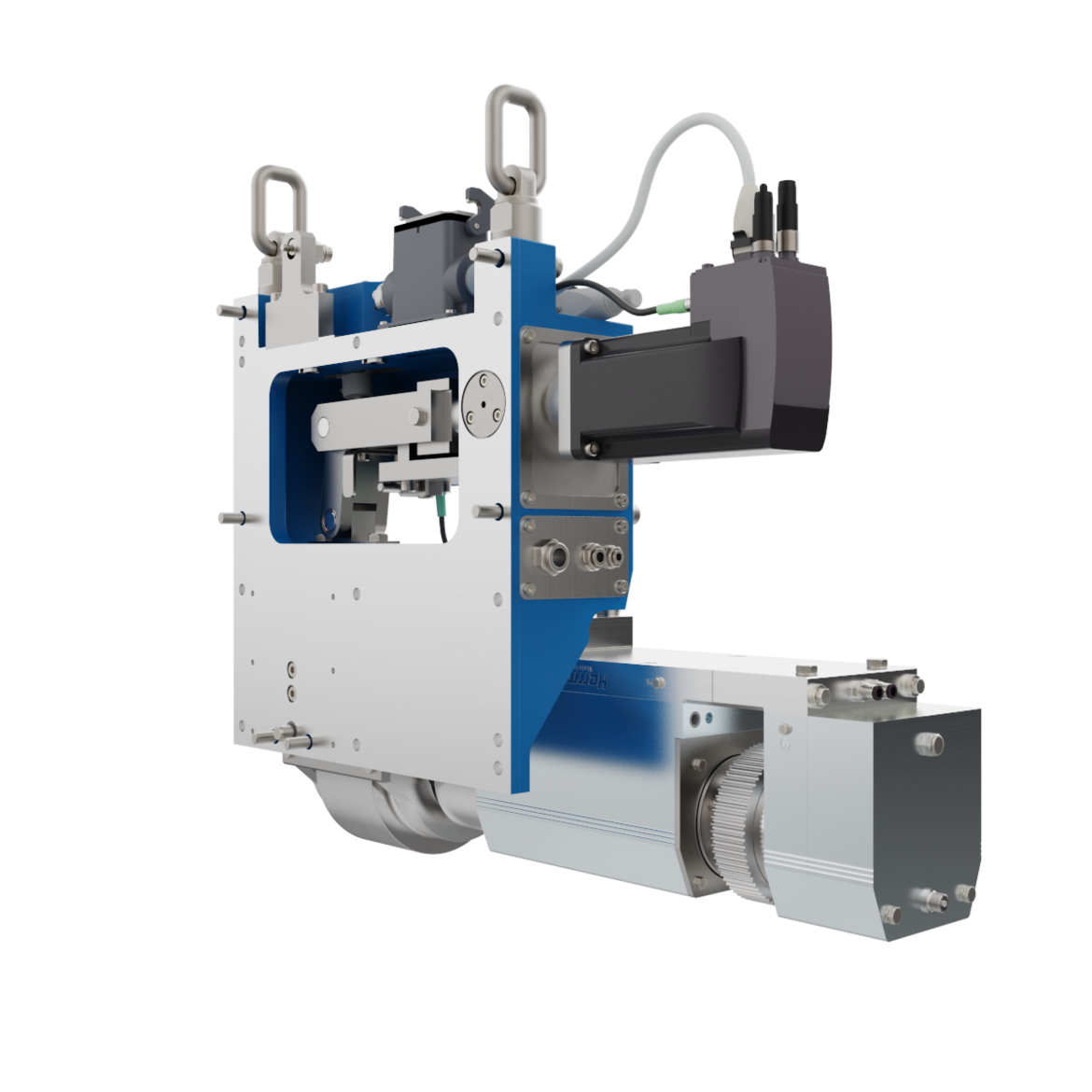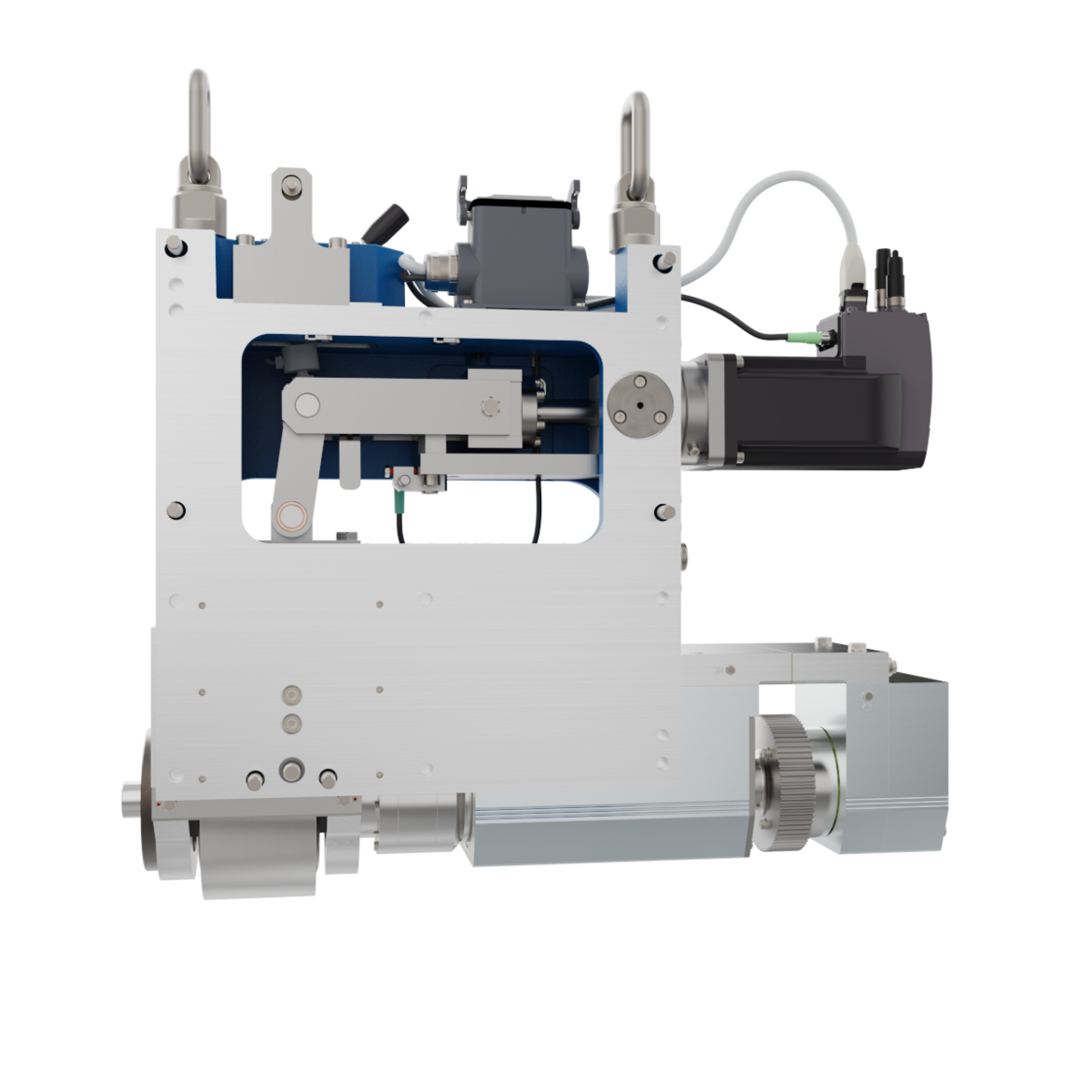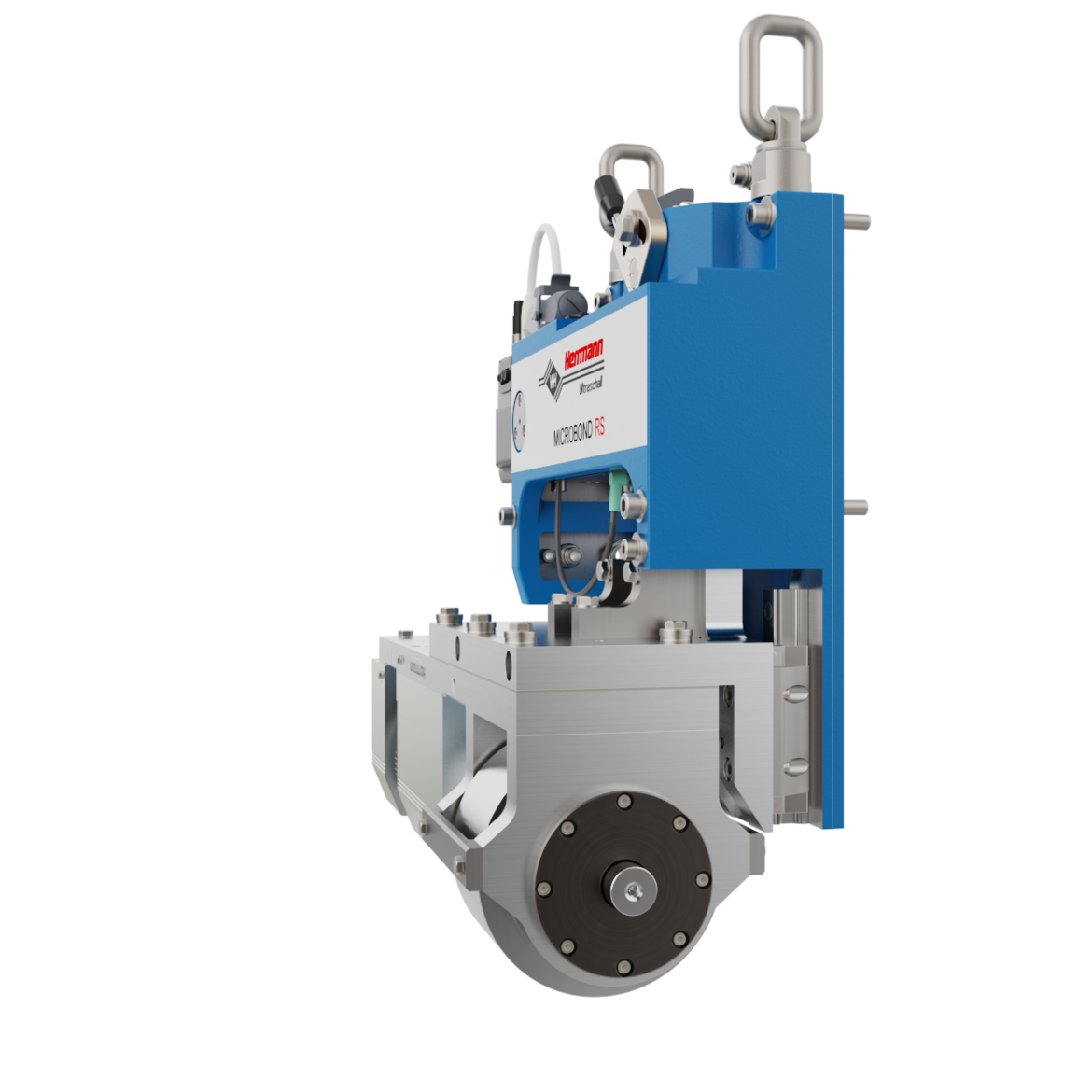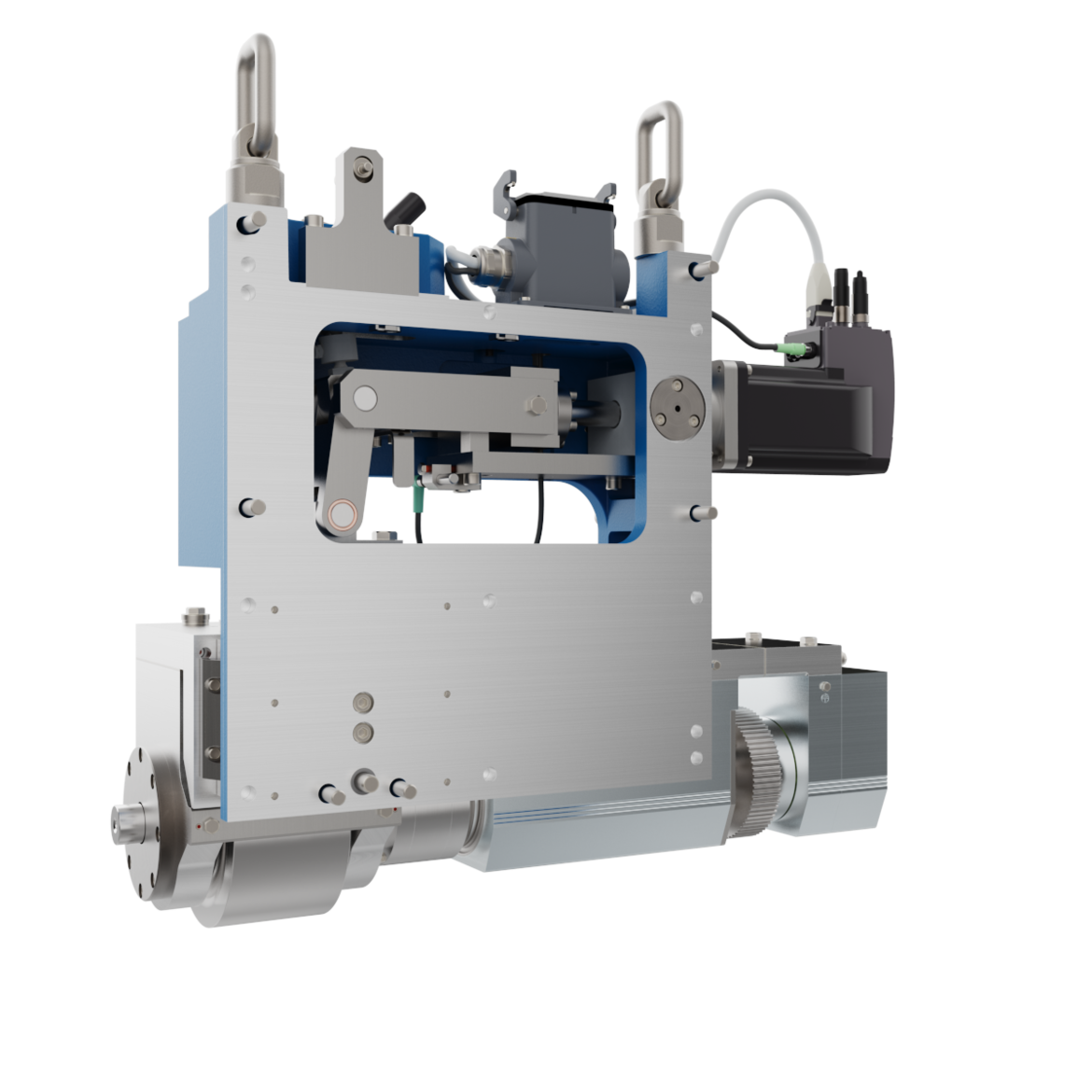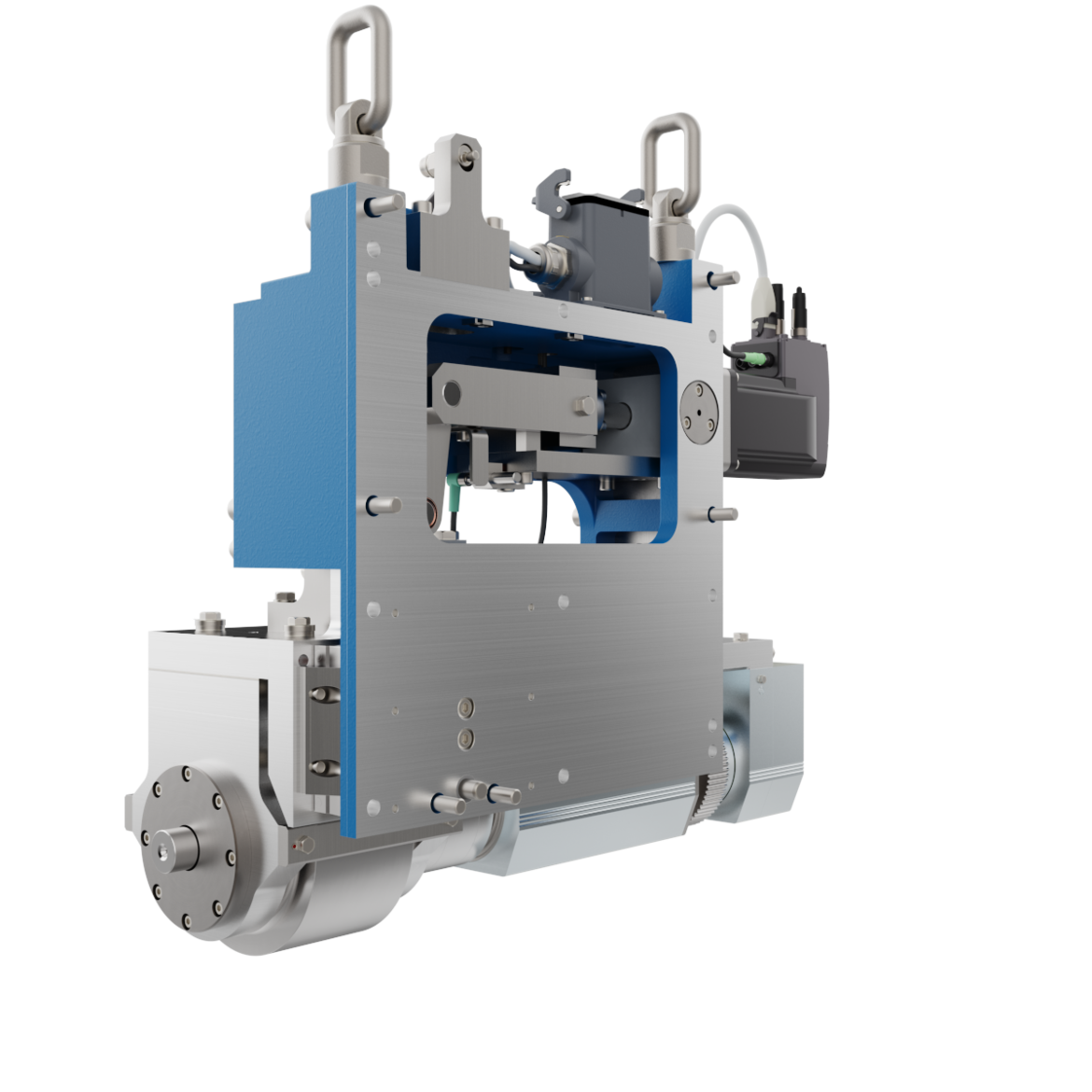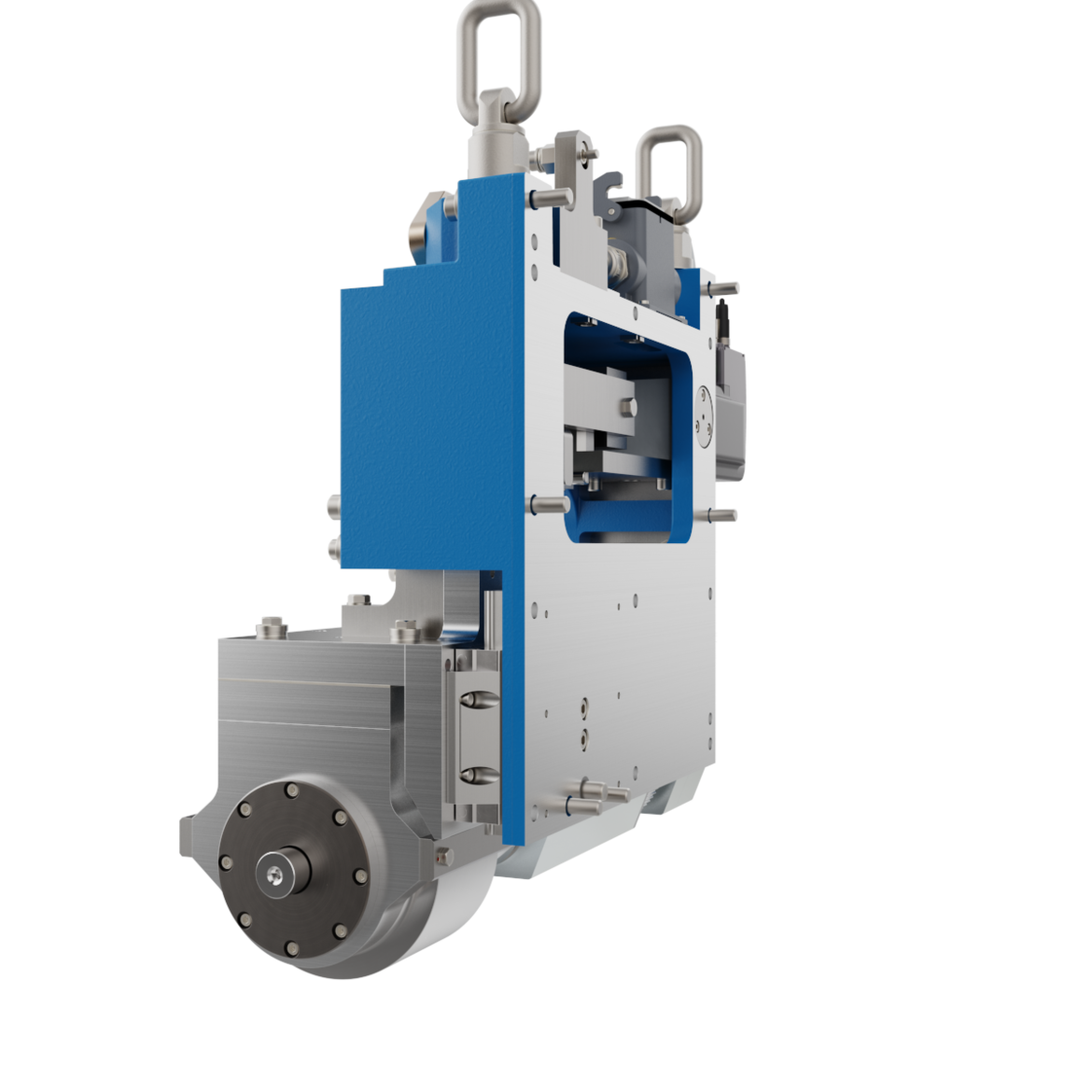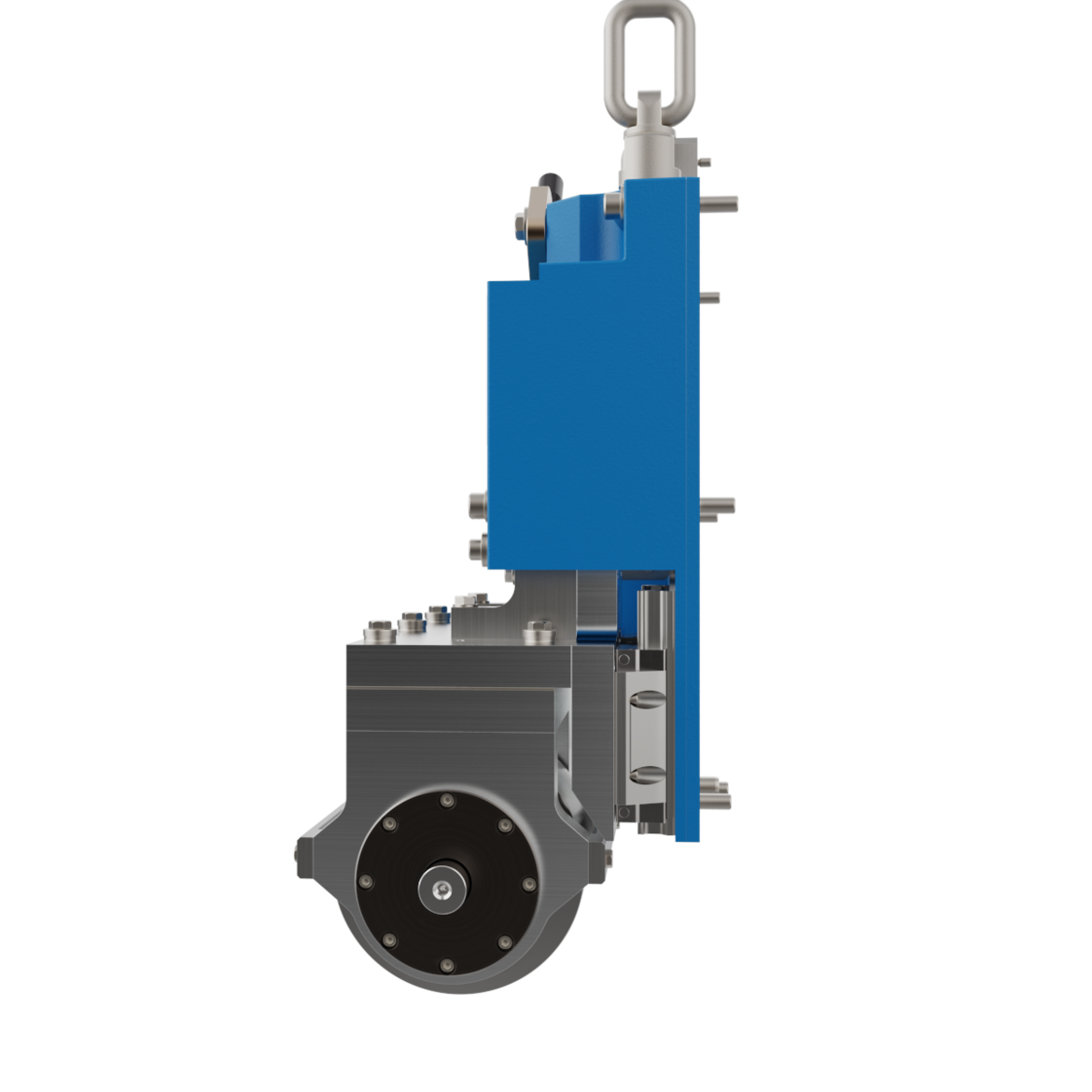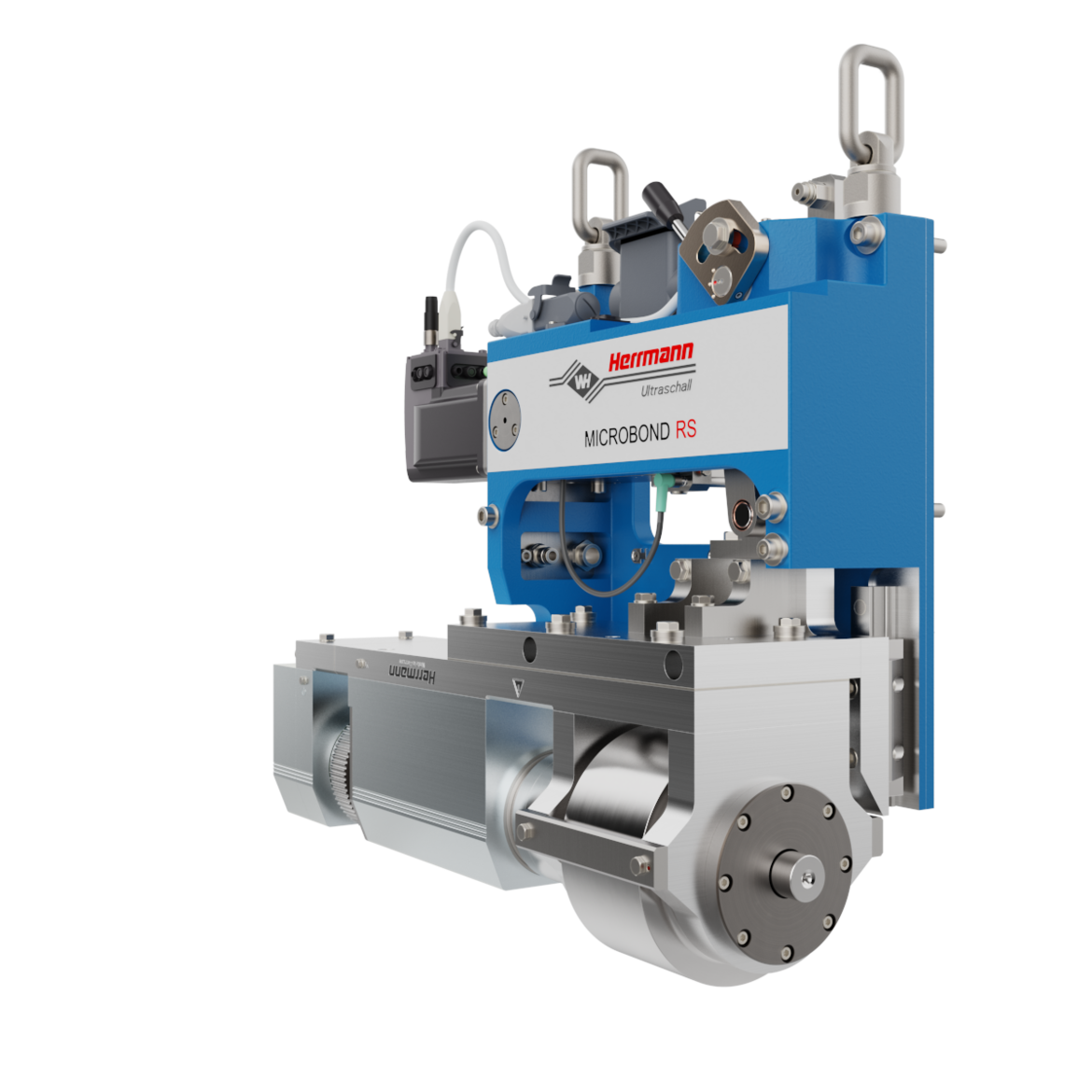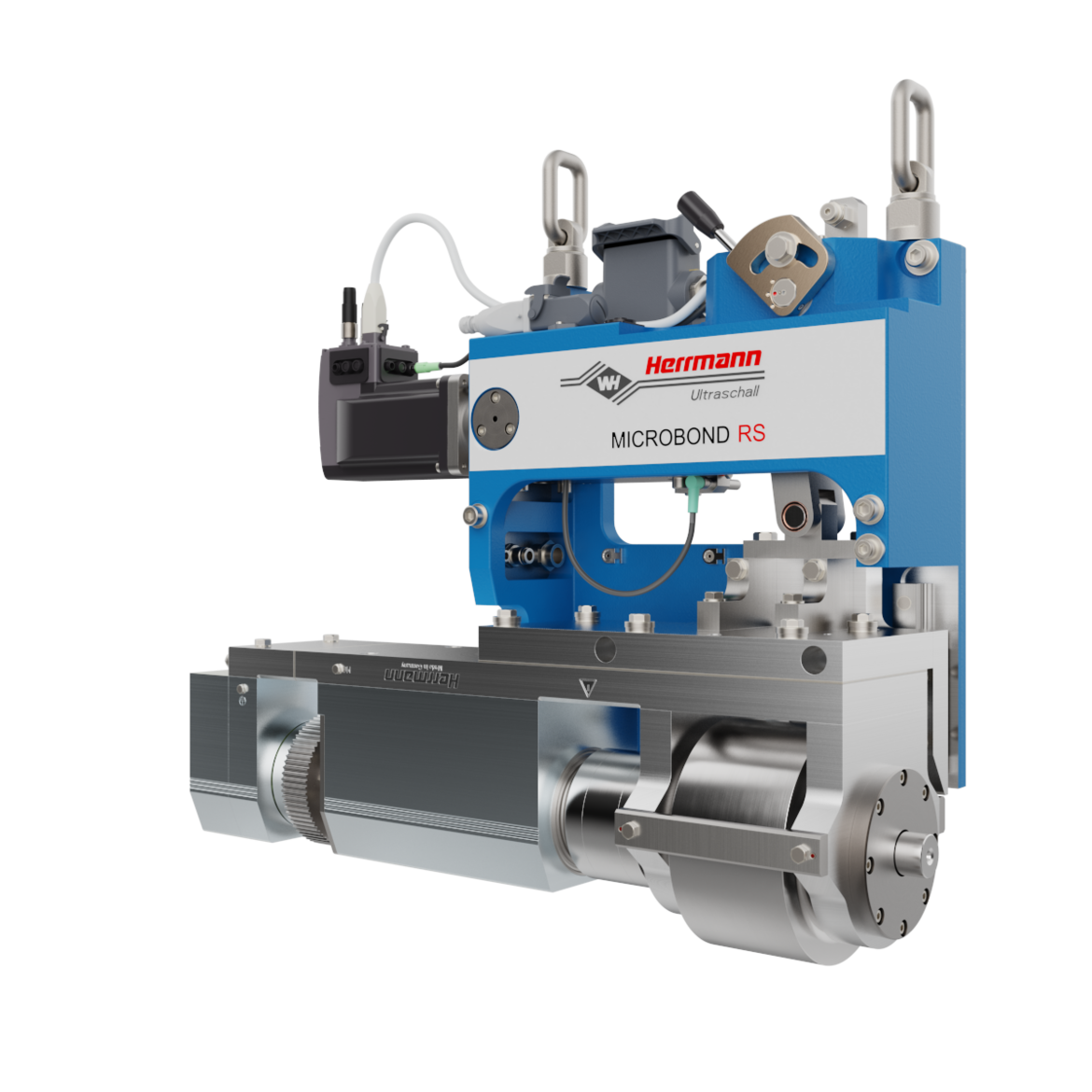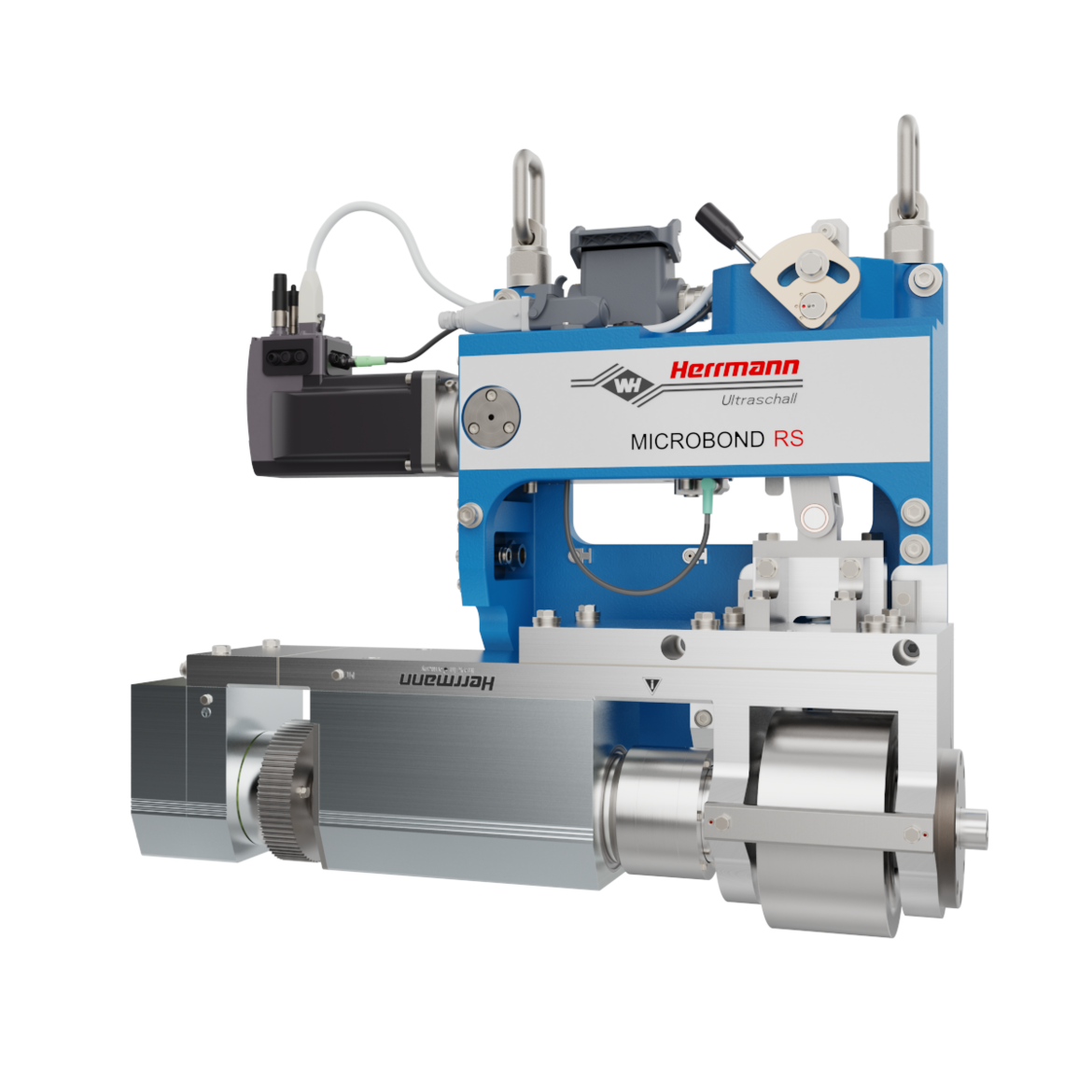 MICROBOND RS
The RS variants of the MICROBOND product line are available laterally reversed to enable welding of very closely bordering joining webs. The various
types of sonotrodes also reach weld positions that are normally difficult to access. Herrmann Ultraschall provides a considerable range of sonotrode widths, diameters and profiles.
Process visualization of all relevant process variables
Process-oriented user guidance and excellent operability
Real time quality control
System safety for the protection of man and machine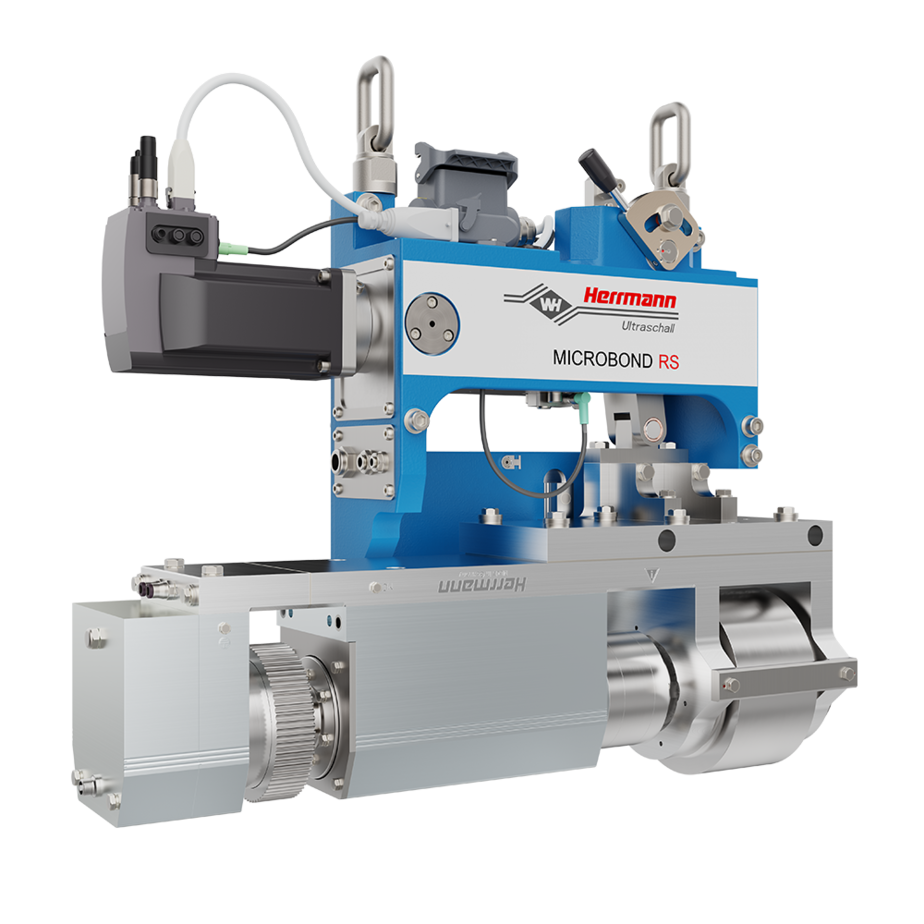 Herrmann Ultraschall focuses on maximum transparency in the weld process. Only in this way is it possible to understand, control, and monitor the ultrasonic joining process. Prevention of redundant rejects, reduction of standstill time, and high availability guarantee an economical manufacturing process. Thanks to the mobile MICROBOND Control tablet, the process can be monitored, assessed, and optimized directly at the weld station.
Process visualization of all relevant welding parameters
Process-oriented user guidance with intuitive operability
Real time quality control
System safety for the protection of man and machine
| MICROBOND RS | RSD 30 kHz | RSD 35 kHz |
| --- | --- | --- |
| Generator power (max. peak power) [W] | 1200 | 600 |
| Weld force min/max [N] | up to 1500 | up to 1500 |
| Control increment [µ] | 0,3 | 0,4 |
| Sonotrode widths* [mm] | 6 / 10 / 15 | 40 |
MICROBOND Control
With the MICROBOND Control it is possible to understand, control, and monitor the ultrasonic bonding process. Prevention of redundant rejects, reduction of standstill time, and high availability guarantee an efficient and economical manufacturing process.
Visual process control
Real time quality control
System safety
With simple connectivity, intelligent user interfaces, and full access from the master computer of the production line, the MICROBOND Control ensures straightforward integration into existing and new machine designs. The optional integration modules combine the ultrasonic components with the rotary anvil to form a robust and ergonomic unit.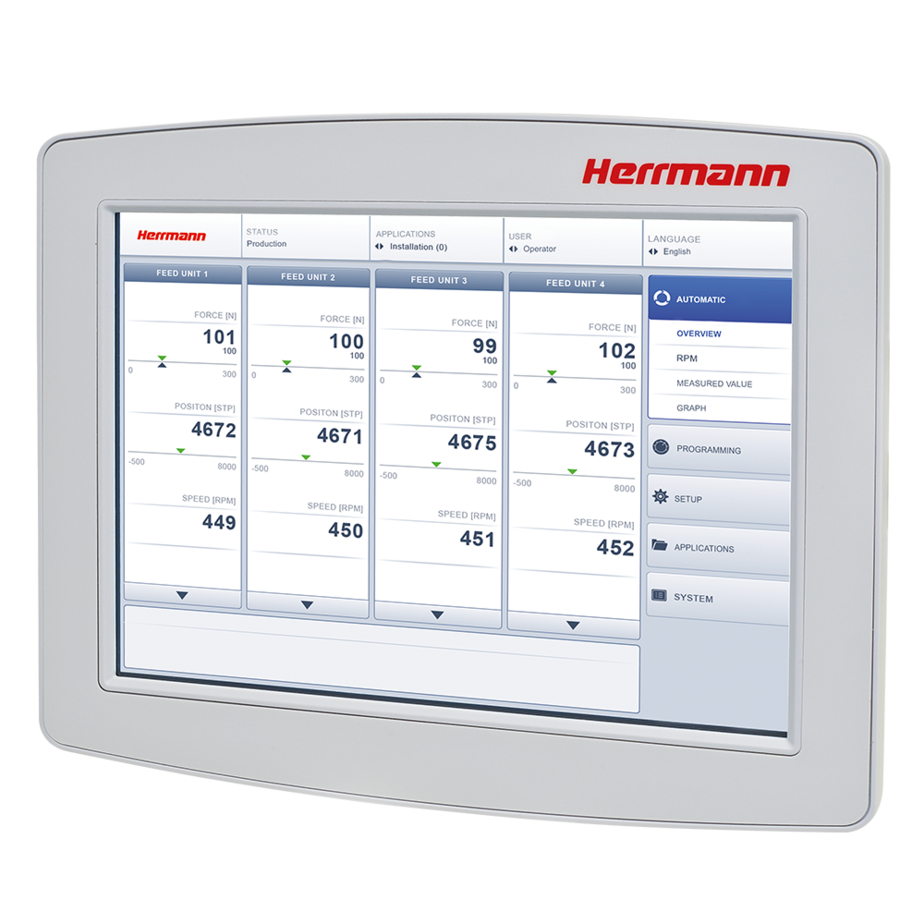 Process visualization
Graphical display of the time-related curves for all relevant process variables, such as power, position, force, amplitude, and frequency is used for documentation of the continuous course of the weld and therefore enables easy process assessment – the basis for fast and targeted process optimization.
Visualization of the continuous weld process
Configurable graph records
Process-oriented user guidance
The process-oriented user guidance provides intuitive navigation through the weld process. Task-oriented menu contents ensure excellent operability from setup to process monitoring.
Optimum ease of operation and process-oriented navigation
Consistent menu navigation, available in more than twelve user languages valid worldwide
Real time quality control
For monitoring of the weld process all process variables are continuously displayed and assessed. Establishment of customized process limits enables early detection of incorrect deviations and prevents production of unnecessary rejects.
Real time process visualization with warning and limit functions
On-line connection via ethernet I/O for fast process interference and access to all relevant process parameters
System safety
In order to ensure safety of man and machine, the MICROBOND system is equipped with a number of safety features that help rule out potential safety hazards and prevent accidents. Tools and machinery are reliably protected.
Protection from personal damage
The MICROBOND system with its safety CPU is integrated into the safety circuit of the overall system
Travel movements of the system in setup mode require enabling via key switch and acknowledge button
Protection from damage of tools
The metal contact detection unit and the overtravel protection prevent tool contact between the sonotrode and the rotary anvil
Permanent monitoring of the maximum permissible force and power values protects the MICROBOND module from mechanical overload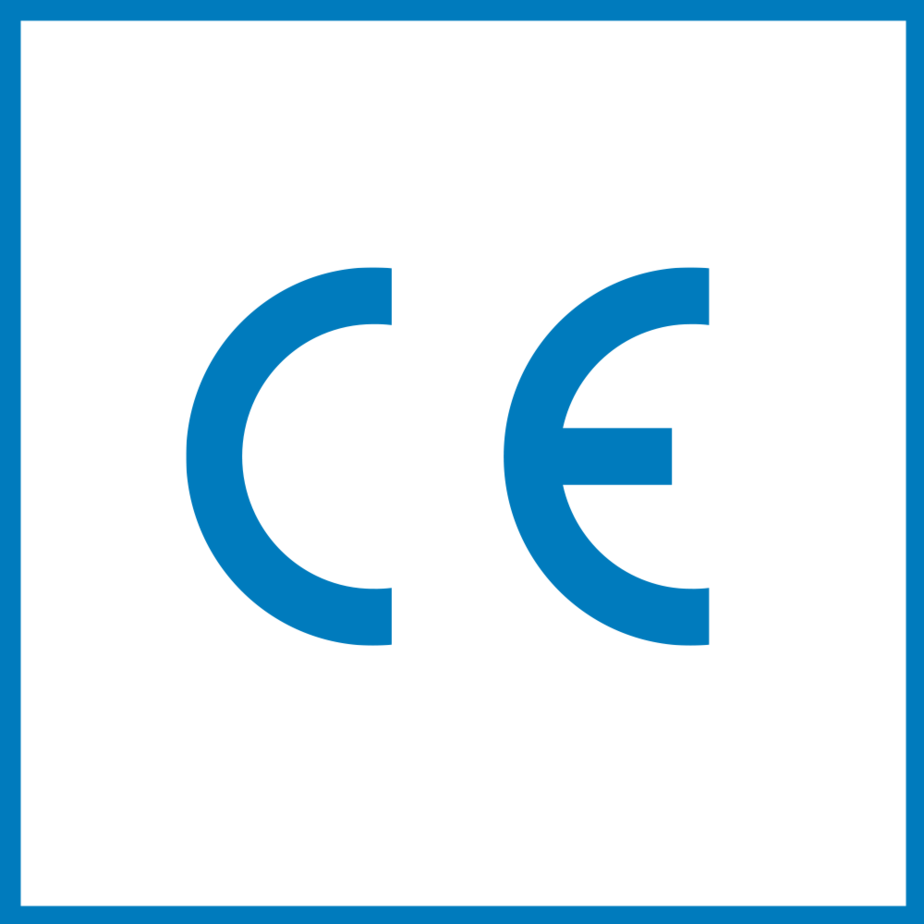 ULTRABOND
Ultrasonic generators
Continuous ultrasonic power generators for continuous applications - The digital ultrasonic generator technology of the ULTRABOND product line is specifically designed for continuous weld processes with continuous power ranges of up to 8000 W. A DSP (Digital Signal Processor) compensates for fault effects and ensures repeatable ultrasonic output at a duty cycle of 100%. The ULTRABOND digital ultrasonic generator is used with the MICROBOND and EASYBOND systems by Herrmann Ultraschall.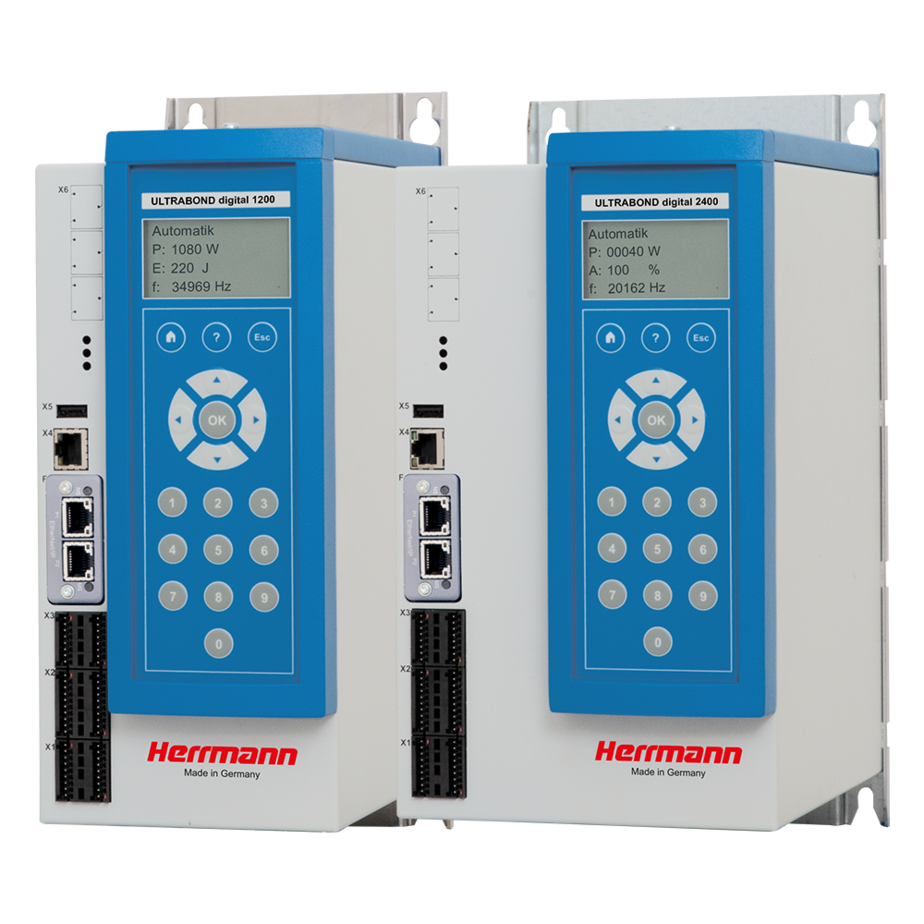 More on the ULTRASPIN module
ULTRASPIN is a compact module for rotary sonotrodes of type RSD. During the continuous weld processes it is important to reduce the friction occurring in the joining area to prevent creasing and shear forces that may have a negative influence on the material structure. The rotary sonotrodes are capable of redirecting the induced vibration to radial direction; this induces a vibrating change of diameter at the weld surface. Sonotrode and rotary anvil are rotating synchronously. This ensures only little friction resistance and gentle welding of fleecy or intermittently fed materials. The precise bearing technology of the ULTRASPIN module ensures constant product quality with high concentric running precision at production speeds of up to 800 m/min.
Compared to conventional bonding methods, ultrasonic welding using the MICROBOND technology provides an extremely efficient and economical option of bonding materials with each other. For selection of the best suitable joining process, investment costs must not be the sole and decisive factor. A holistic approach includes various viewing angles.